Quail's Gate, Grizzli, Kalala & Off the Grid Wineries with Lunch Stop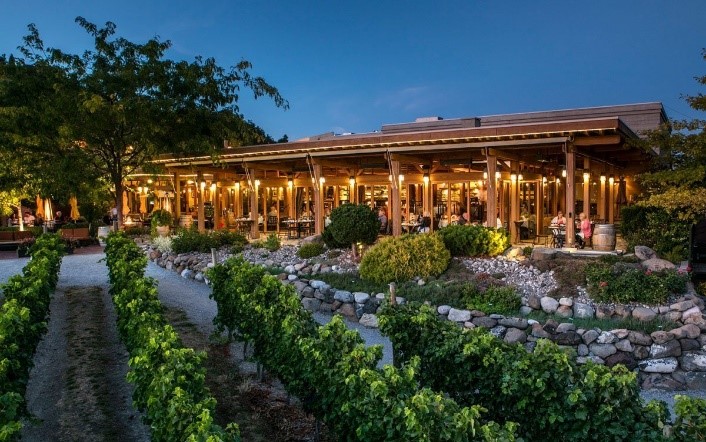 Duration: 6 Hours (approx.)
Location: Kelowna, BC
Product code: QGGKOTGW001
Our Winery Tour begins at Quail's Gate at the original wine shop, situated in a historic log cabin built in 1873. Strolling through the vineyard, you'll note Quails' Gate is known for its ideal site for growing varietal grapes, especially Pinot Noir and Chardonnay. You will be offered a selection of wines to sample, all made with BC-grown grapes and approved by the Vintners Quality Alliance (VQA).
Enjoy the delicious meal of your choice at 19 Okanagan Grill overlooking Okanagan Lake and Two Eagles Golf Course. 19 Okanagan Grill is known for its fine food and friendly staff. Savour their newest Okanagan inspired menu selections and discover one of West Kelowna's best kept secrets.
Experience Grizzli Winery , a Tuscany-style winery will provide an old-world Italian feel on the scenic Boucherie Road in West Kelowna's famous wine country. Grizzli Winery produces a world-class range of red and white wines and an award-winning range of Canadian Icewines.
Off the Grid Winery takes pride not only in their history, but in their future. Their passion for wine goes deeper than vintage: it has roots a hundred years deep in the land. As B.C's first "off the grid" winery, they have an exclusive experience to offer. From solar panels to their star-bale wine shop, they are organically minimizing their footprint with each bottle of delicious wine.
We finish our tour at Kalala Organic Estate Winery, which sits high above Lake Okanagan on the upper bench of West Kelowna with a breathtaking view and old-world charm.